Taste of Downtown San Diego 2011 Part 1/2
Submitted by
lynn
on Wednesday, October 5, 2011 - 9:40pm.
We finally made it out to Taste of Downtown this year.  Many new restaurants have popped up since the last time we sampled in this area (2006, 2007p1/p2)! The event was originally set for Septemeber 8 but due to a huge blackout, it was moved to September 29. This year there were 49 restaurants on the list to visit between 5-9pm.
That's our event ticket! We work hard to fill it out!
This is written in the order visited!  I started out the adventure alone but Dennis joined me around 6pm after he got off work.  I originally planned to try Cafe Sevilla first but they weren't ready at the start of the taste, quoting another 15-20 minutes.  Since there's no time to waste, I headed to Donovans nearby.
Donovan's Prime Seafood

The servers were very meticulous while setting up this dish so I had a feeling that the food and service could be outstanding if dining for real.  Unfortunately, I don't remember what this soup was called but there were possibly green onions and bacon bits floating in a creamy white soup.  It looked beautiful and had a pleasant taste with a hint of citrus or something.
Masala Spices of India

This buffet style sampling offered Chicken Tikka Masala which was slightly dry on some pieces but its tomato flavor was in the mid to low range of spice.  I almost always like spinach curry but it veered toward generic.  I would have loved if it were the type with chunky goat cheese cubes mixed in!
Rockin' Baja Lobster Coastal Cantina

I didn't care much for the garlic bread which was slightly soft with a normal amount of buttery garlic seasoning.  The shrimps had a nice saucy taste to them.  It reminded me a little of the mayonnaise sauce that I find on walnut shrimp at asian restaurants.
Dick's Last Resort
This was one giant shrimp in a little container!  It had the shell on it so I had to get down and dirty to peel it.  A little sqeeze of lemon gave it that shrimp combination flavor that I like so much.  I didn't really care for the shrimp dipping sauce accompanying it.
Acqua Al 2

The server had a cute little accent when introducing the foods but I wasn't too impressed with the Lumaconi Di Pepperoni or Fusilli Corti Agli Spinach pastas here.  The red sauce was a little on the runnier side and a bit plain for my taste.  I can make pasta like that at home.  As for the spinach one, it was a more subtle flavor that was creamy and a little cheese-like.  I preferred the second to the first but in the end, some pastas absolutely have to be served fresh and hot or not served at all.
Burger Lounge

The sliders were cute but with 40+ restaurants left, I took one sample bite and put it away. The actual burgers are delicious when fresh but this mini was so-so in flavor but cooked just right!  They also offered a vegetarian burger with a patty that was made with quinoa so maybe I'll try that at their restaurant one day.
The Field Irish Pub & Restaurant

Honestly I don't remember how this one tasted but I love bread bowls and this one was a mini-sized sampler!
Henry's Pub

The chicken itself was a little overcooked in some areas.  The mashed potatoes were on the firm texture side and pretty much unflavored but luckily there was a gravy sauce to help hide some/all of this dish's problems!
La Fiesta Mexican Cuisine

I got a slightly soggy tacquito here.  Yes, it was one of the last few sitting on the tray so what could I expect?  I wished they had someone there to add the toppings fresh but maybe they thought it better to have their servers cater to their current customers instead of new tasters.
Ghirardelli Chocolate Shop

I practically ran across the street to get our sample from the chocolate shop.  Two ladies were passing out a bag of chocolate goodies for each taster.  I was very happy about this because we could save them for later and enjoy the hot foods now while we still had room in our stomachs!  Thanks Ghiradelli!
Chianti Restaurant

I was excited about this one because it looked healthy with the zuccini pieces.  After a bite, I realized that I had expected too much and had eaten a saucy pasta that wasn't up to par for me.
De Medici Cucina Italiana

The lobster roll was delicious and I saved the second half for Dennis.  As for the pasta, it was a bit generic for me and not too interesting.  The tiramisu dessert was another hit because it was fluffy where it needed to be and the creme was a great balance between sweet and creamy.  There were mostly so-so places before this and now I had hit one of the highlights of my night (so far).
Urban Bar & Grill

This steak quesadilla was a little plain on its own but the salsa verde perked it up.  There didn't seem to be too much meat in here but what I did find in there was decently tender without being overpowered by the cheese filling.
Gaslamp Tavern

This potato skin had some nice pieces of meat on it.  I would have liked it a little more fresh but overall it wasn't bad.  It would make a nice appetizer platter to share with friends.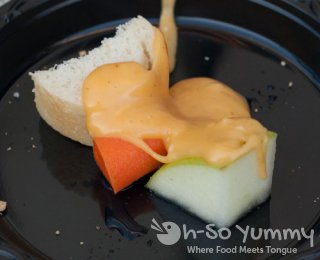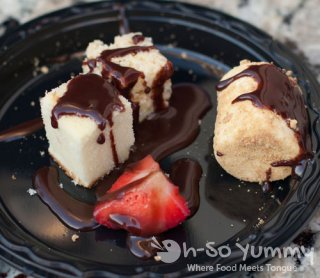 The Melting Pot Gaslamp

Dennis joined me at this point.  I've always wanted to eat here so sampling it was a great opportunity to see what I missed.  In the end, I was not that fond of the cheese dip plate.  Cheese doesn't really go that well with apples or carrots.  As for the chocolate, strawberries are always a match.  The cake was a little on the plain crumbly side, even with a drizzle of chocolate but I still prefered the chocolate over the cheese platter.
Crab Hut

The shrimps here were a generous size and very flavorful.  Dennis loved the spiciness of the jambalaya and the texture of the bread pudding.  After this tasting, I think he'd come back!
House of Blues

One of our top picks so far.  The meatball slider was a delight in our mouth.  It was tender and the perfect ratio of bread to meat.  The cornbread was stable with some bits of corn here and there, one of my favorite ways to prepare that dish.
Stout Public House (not participating)

A sign on the door said not participating.  Boo!
Sixth Avenue Bistro

The food here was similar to when we were here last: a jambalaya mix that was really good.  We need to eat here for real one of these days!
La Gran Tapa (not ready)

It was close to 6:30pm and they said wait another 15-20 minutes.  Not sure if there were cycles of food but that's not a good excuse.  Too many other restaurants to visit so sorry, thumbs down from us.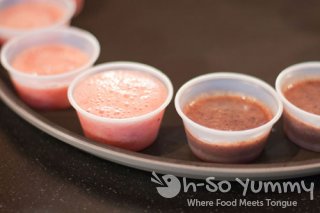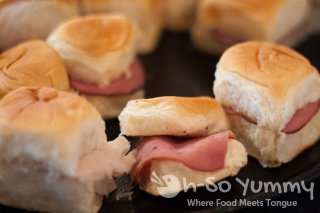 Chef Miguel's Deli Juice Bar

We enjoyed their Wild Strawberry Smoothie sample; The Mixed Fruit Smoothie was also decent. The pastrami sandwich meat was good but it was very thin with too much bread for their sample bites.
St. Tropez Bakery & Bistro (not open)

We stopped by this place but were surprised to find that they weren't open.  Honestly, other than wanting publicity, a place that normally closes at 3pm shouldn't participate in a tasting that is after hours!
Panera Bread

We were hoping for sandwiches but they were sampling three varieties of cookies instead.  The one cookie that I tried was on the interesting but delicious side.  We decided to save the rest for a snack later.
Continue to Part 2