Taste of Downtown San Diego 2011 Part 2/2
Submitted by
lynn
on Friday, October 7, 2011 - 3:57pm.
If you missed part 1, here is the link.
At this point, we were almost halfway through the restaurants for our Taste of Downtown San Diego 2011 journey. I'm not sure exactly when they removed the Little Italy restaurants but it makes the trip a lot easier to hit more restaurants in such a short amount of time!


The Lincoln Room

We had to wait 2-3 minutes before entering but once there, the chicken wings hit us with an extremely strong smoked taste that Dennis didn't like that much.  The wing meat itself was super tender and fell off the bone easy.


Bandar Restaurant

This one was quick because it was prepackaged in a to-go box but all it contained was some pita bread and dip. We weren't too impressed with either portion.  I don't think it was an accurate representation of the restaurant. I still have no idea what kind of food they serve!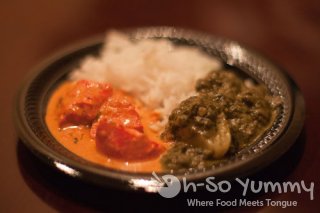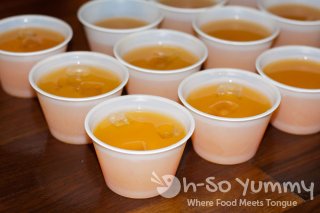 Monsoon - Fine Cuisine of India
Here was another buffet style Indian place but the food here was outstanding. I loved the mango mousse dessert they had, the chickpea mixture, and some of the meats. The punch was sweet but not overly so and it was very refreshing to drink!


Mint Downtown Thai

We were able to sample two of their dishes, the red curry (vegetarian) and their pad thai (chicken). Both were really good! Dennis had thought about dining there before but after sampling, he decided to come back for lunch soon!


Hennessey's Tavern

We had four choices of their sliders and chose the avocado topping. It came out cooked medium well, meat still tender and guacamole quite good. Definitely decent food for a pub.
Shorelines Gallery

A rep from a vinyard sampled a few bottles from his winery.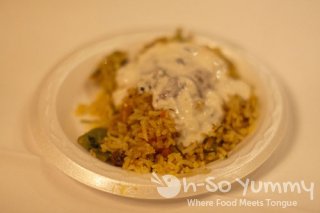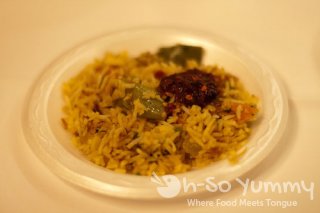 Royal India

Another decent indian place.  Dennis really loved the flavor of their paella dish.  His version was the spicy one which gave the right amount of kick, followed by a bite of my sweet version, which cooled off his mouth!  The sweet version was interesting because they layered two toppings, a fruit chutney and the creamy white sauce seen in the picture.


Dublin Square Irish Pub

This dish was mixed for us. A few pieces were tender, where there was some fat, while the rest was way too tough!  I wish it had looked a little more appetizing though!  Maybe you could use the leftovers in some kind of stew!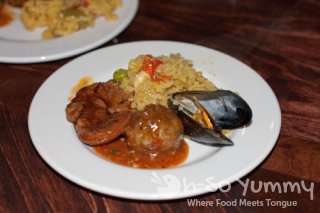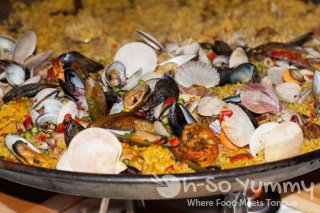 Café Sevilla

You couldn't tell from the outside but once inside, there was an unbelievably long line going up the stairs, and both ways of a 30ft hallway before the serving area.  It wasn't that late yet but we noticed all the desserts were gone and only the paella was left.  Dennis noticed that the paella was extremely infused with a seafood taste, and quite a bit mushy. The meatball had a very mild sauce which I think could have used some more spice.  The mussel was nothing to scream about either.


McCormick & Schmicks

We ate here for Restaurant Week so we were super excited to see what they had to offer!  The tuna portion was fresh tasting but the cucumber slices were a bit thick for our taste. Also, the sauce seemed a bit strong and didn't really go with the rest of it.


The Fleetwood

We headed to the back of the restaurant where we found a single small stuffed mushroom. One bite later we were pleased with the delectable stuffing and slight drizzle of olive oil.


Proper Gastro Pub/Wine Steals

This place is easy to miss but luckily there was a sign! We waited a few minutes before we got our meatball sampler. I took one whiff and my nose went crazy just from the spicy smell!. I bravely took a bite and to my surprise, the smell was worse than the bite! The outside had a firm baked texture despite the sauce and the insides had a melty cheese goodness. It ended up being a level of spice that I could handle, despite my initial impression. We really loved the meatball here.


Toast Enoteca & Cucina

We were disappointed to find another pasta that looked absolutely boring and likewise, tasted the same way. Most of the other places we tried to finish the sample but here we simply tossed it after one bite since we still had a few places to go.
Tilted Kilt Pub & Eatery (out)

It was close to 8:30 and they were out of samples for the night. Boo!
Dragon's Den

Here was another place where we had a little bit of a wait. We were feeling a bit anxious and almost ready to leave when the food finally came out, maybe 10 minutes later. The crab filling in the sushi was the way I liked it: light and not artificial tasting. The rest of the roll was just decent. On the other hand, the fried fish was a treat for us. It had a nice sweet and sour touch to it and we knew this portion was what gave us the wait.


Starbuck's Coffee

I believe it was something like a Pumpkin Spice Mocha, a holiday treat of some sort.


East Village Tavern + Bowl

Dennis remembered that he always liked the samples here and once again, it was a delightful chicken wing with a semi-sweet glaze over a nicely baked chicken char. Yum!


Lotus Thai

For some reason the guy gave us his last three dumplings but soon after another couple came running over, stating they missed the last batch and just missed this one! We offered them half of ours since we had extra! Too bad they were just average tasting dumplings so those other people wouldn't have missed much.
The Village Coffee & Wine Bar @ 631

This place looked closed and had a sign stating that they were out for the night.
Knotty Barrel Gastropub

To sum it up: CRAPPY SERVICE! Thanks for ignoring us and only paying attention to your paying customers (who were sitting on the table next to us). We're not planning to come back.


Valentine's Mexican Food

I think they could have sampled something better than two chips and some hard dry taquitos. Yuck.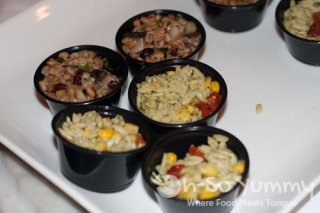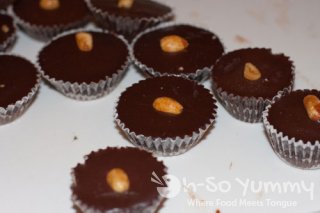 Zanzibar Café

We really like this place, especially their desserts. For some reason I was expecting a Reese Peanut Butter cup taste but there was a unexpected textured filling (nuts, etc). It was very good! They also served an orzo pasta and grain side dish with raisins. Definitely nice as sides but I was hoping they'd sample something off the dinner menu...
------------------------------------------------
Here are the places we missed completely:
Montreal's - Ran out of time
Pinkberry - The line was out the door and we've had their yogurt before
Ocean Room - I accidentally missed this when I crossed the street for Ghiradelli Chocolates!
Quarter Kitchen at Andaz San Diego - We should have stopped here after Miguels but I didn't notice it on the map!