Cinderella Pumpkin Carriage and Garlic Mice for Halloween
Submitted by
lynn
on Friday, October 31, 2014 - 10:21am.
When I was younger, I used to do occasional artsy stuff for myself or friends. Then after getting a job with income, I kind of got lazy and started buying things instead. This year my workplace had a pumpkin carving contest including money prizes and suddenly I had some motivation. Time to get crafty!
I turned to my trusty google images search to look for NO CARVE pumpkin ideas. THIS is what I ended up creating:
It's Cinderella's pumpkin carriage including mice (pre-transformation)!
I'm starting to really like trader joe's, though not for their pre-made foods (which I've heard is good). I'm talking about their produce. Seriously, the squashes are SO CHEAP here. I think it's about $1.88 for a butternut squash. Go pick up the BIGGEST one and the price doesn't change. And, it happened that pumpkins at TJ's were super cheap, at 2.99 for the bigger ones, 1.99 for the smalls, and 0.69 for the minis! I got 5 for about $8, with the extras just in case I messed up!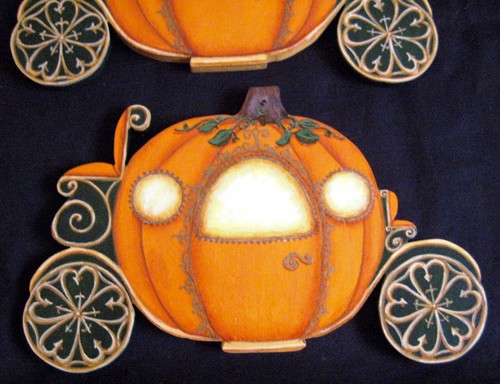 Part of my idea inspiration was the above image from houzz. I had pumpkins but now I needed some WHEELS!
I don't have much around the house but when I saw a green grapefruit, I thought that the peel would be PERFECT as vines! I cut out some curlie q's and tested it out. It worked great! I also cut out a few pumpkin leaves to decorate the top. And, per drawing above, it needed some doors! I did a little bit of carving using a sharp paring knife.
I also cut out a front seat for the carriage driver. Project is looking good!
Earlier in the day, I had found the above picture from better homes and gardens. During my search I had read about garlic (even though the mice were really pumpkins) so I grabbed a whole clove and decided individual cloves would be best.
Here's a closeup of the mice I made. Despite my poor sharpie skills, they turned out quite nice. They wouldn't sit up by themselves so I decided to cut off the bottoms so they'd be on a flat surface. That did the trick. I also needed tails and happened to have multiple sized rubber bands. I took the tiniest one in yellow and cut it in half. Perfect. And with a little curl too! In retrospective, if I had used dried cooked spaghetti, the project would have been made out of all food (except sharpie art).
I loved my final product, which took about 2 hours all together. The vines were the most time consuming since I tried to make them symmetrical. The next morning was picture time and those extra pumpkins came in handy as background props.
Unfortunately I didn't win any prizes at work boo hoo. Plus the natural grapefruit skin dried out within a day or two so they had shrunk a bit. At least I enjoyed my creation and I hope you did too! Happy Halloween readers!